For Nance anyway!
As one can easily guess this is my most favourite time of year. The thing is, all the shit about Halloween- the decor, the aesthetics, the candy corn... i love it year round!
Do you know anyone that at any given time carries fakeblood around in their purse? If you know me than you do.
If you're in New York and reading this, do not sleep- tonight is our big Halloween Edition of BOYS ON FILM. Our homies DJ AYRES & WOODY FU are joining us and we're sooo ready to get weird tonight.
I've been working hard and crafted THE BEST 80s themed costumes for Jemz & i. I'd tell you but i dont wanna ruin the surprise. Come out to Plan B tonight and bask in the beauty and glory of it all.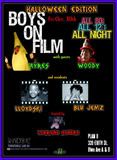 As a parting treat, please enjoy another of my year round favourites: